Using video games to educate
Educators and educational institutions are becoming increasingly interested in the potential role of video games to support young people's learning experiences. Teachers are using video games in the classroom to increase student engagement and learning outcomes. Video games are also helping them encourage teamwork, strategic thinking, and reconnect students who have difficulties in school, especially when more traditional approaches have failed to unlock their full potential.
Recent research shows that girls who play video games are more likely to enroll in STEM programmes than those who don't. Read our latest below: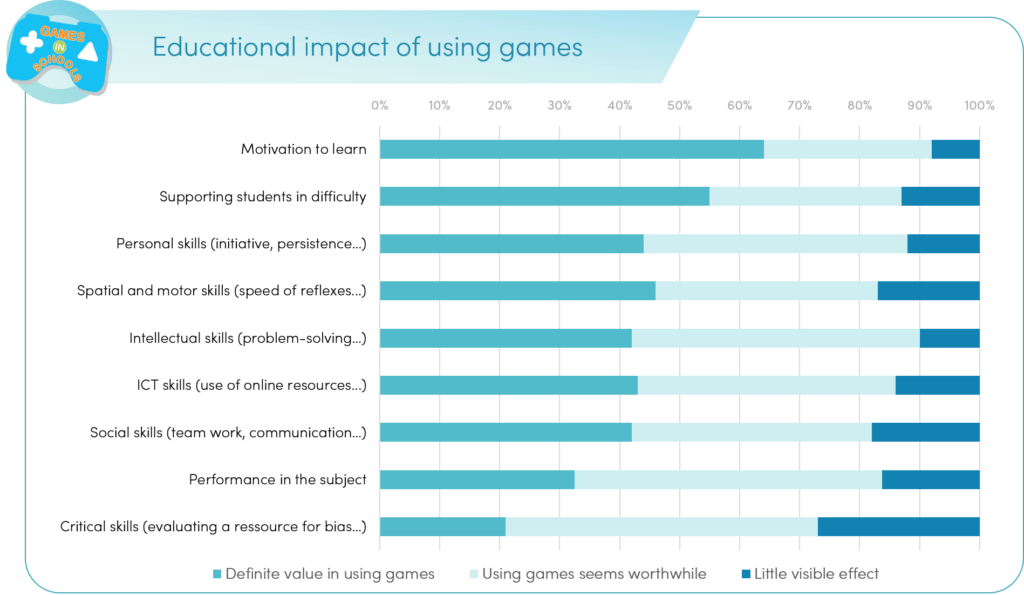 Video games in the classroom
Skills, knowledge, and attitudes can be improved through the use of video games in the classroom, given the right environment. The choice of video game and the environment in which it is situated, and the teacher's role as moderator, are vital if the desired learning outcomes are to be achieved. Video games can supplement traditional learning but not replace it.
The majority of today's teachers are willing to incorporate video games into their lesson plans. As video games can extend outside the classroom, they provide an ideal platform for study aids and to assist those with learning impairments.*
*2009 Games in School report 
How are video games used in schools to teach and to motivate? Where can teachers get started? How do you assess if a digital game is suitable for classroom? What is the difference between video game genres and their learning benefits?
For the sixth year in a row, Video Games Europe and European Schoolnet, the network of 34 Ministries of Education across Europe, are collaborating on the Games in Schools project designed to train teachers and educators across Europe on how to use commercial video games to enhance the teaching environment. The project also supports the development of digital competences, boost digital literacy and help fill the digital skills gap in Europe.
More than 4,200 teachers across Europe took part in the 2019 edition of the Massive Online Open Courses. The project also provides a handbook for teachers (first released in September 2020 and updated in September 2023) that aims to guide successful learning outcomes.
On 29 September, specifically on eve of the publication of the updated Digital Education Action Plan, Video Games Europe and European Schoolnet hosted a virtual Games in Schools event. "Learning by Playing" brought together EU policymakers, educational experts, and the video games industry to discuss the challenges and opportunities presented by the use of video games as pedagogical support in the classroom. Learn more here.
Course for teachers
The Games in Schools project started with a 6-week long Massive Online Open Course (MOOC) including the following modules:
Module 1: Why use Computer Games in the classroom? – 14 October
Module 2: Using Games for Thematic Learning – 21 October
Module 3: Learning Games – 28 October
Module 4: What can we learn from games? – 04 November
Module 5: Designing Games – 11 November
Module 6: Why is it important to teach about games? – 18 November
At the end of the course, teachers were asked to come up with tailored lesson plans with game-based learning elements. An Editorial Board of Teachers peer-reviewed the lesson plans and included the best ones in the teacher's handbook on the use of video games in schools. The latest handbook was presented at a webinar in September 2023. The former versions of the handbook include a 2020 version here and a 2013 here.
1. Past iterations of Games in Schools

In its goal to encourage the use of video games for pedagogical purposes, Video Games Europe entrusted European Schoolnet to carry out a study to find out more about how games are effectively and meaningfully used in school education. The study, conducted from Spring 2008 to Spring 2009, draws a picture of the penetration of games in schools across 8 European countries: Austria, Denmark, France, Italy, Lithuania, the Netherlands, Spain (Catalonia) and the United Kingdom. Read or download the report.
Following the study, a six-weeks long MOOC for teachers on how to use games in schools was elaborated. Delivered via the European Schoolnet Academy platform, the course content was coordinated by European Schoolnet with the support of Ollie Bray, an innovative educator and headteacher from Scotland. With an 80% engagement rate and a 39% retention rate, the MOOC provided hugely positive results thanks to hundreds of teachers providing additional data on how games can be used in classrooms. The evaluation report provides important indications on the challenges that teachers face when using games in the class room: Technology and logistical issues were the most common challenges identified by the teachers, spanning from lack of internet access and of devices, to lack rules for the use of students' own devices and lack of budget.
The Handbook for teachers, written by Dr Patrick Felicia, researcher at the Waterford Institute of Technology in Ireland, is based on the outcome of the MOOC and outlines the necessary information to understand the educational benefits of digital games and to learn how to use them as educational and motivational resources. It allows teachers to make informed decisions on the choice and use of digital games in the classroom. It is available for download here.
2. UK Digital School House
Ukie's
Digital Schoolhouse
, powered by PlayStation, and sponsored by SEG, Ubisoft and Warwickshire County Council uses play-based learning to engage the next generation of pupils and teachers with the new Computing curriculum (introduced in September 2014). Workshops are hosted by Digital Schoolhouses (usually secondary schools) and taught by their appointed Digital Schoolhouse Lead Teacher (DSLT) to visiting primary schools. The programme ensures its teachers are ever-empowered, confident and inspired to deliver Creative Computing in classrooms across the UK; providing free online adaptable resources, ingenious training and opportunities. All of this is underpinned by academic research and education philosophies.
3. The UN agency UNESCO MGIEP has launched an initiative on Games in Learning
Game-based learning provides a promising new pedagogy, which allows learners to proceed at their own pace. supports research in gaming as it places the learner at the centre of learning by providing an interactive, immersive, multimodal environment. Link http://mgiep.unesco.org/games-for-learning